Mini Project 2 – Requirements Gathering & Analysis
A
Primary Research Technique Selection Rationale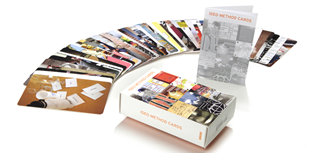 IDEO Method Cards
I selected "5 whys", from the IDEO method cards (IDEO) which I extended by saying 5 whys, with 5 participants, in 5 minutes each.
The method was attractive because:
It was non–invasive for the participants, feeling like a natural conversation with the interviewer
Reduces the cognitive load on respondents, they didn't feel they had any work to do
Away from a computer screen, freeing me up to go to where participants were, making it easier to find willing respondents
Enabled me to gain deep insights into participants underlying thoughts and feelings, free from the constraints that come from critiquing the current Sunsave website
Does not require artist talent, cost or the feeling of invasiveness of some type of ethnographic studies
Implementation, The Test Run
To confirm the "5 Whys" was a good technique, I practised on my father, aged 75. It worked, successfully delivering two useful insights.
He answered the questions quite briefly. Real insights came from questions 4 and 5: for his age group warm weather is really beneficial for health and that he could be enticed to book again if lower prices were available. These finding can be translated into a real content requirement of the website (sunsave.com) providing information of the benefits of being in a warmer climate and the functional requirement of enticing him back with, for example loyal discounts.
Choice of user group for main study
A group of ladies of similar age (30's) and income levels kindly gave up their time to become my 5 participants. All of them are primary stakeholders because they regularly buy holidays.
Implementation
I used a Digital Camera (Panasonic Lumix) in video mode but covered the lens as to be least intrusive (Rogers et al 2011,p.227) with the participants being mostly unaware of its existence, reducing the Hawthorne effect a minimum.
Interviews were conducted in a quiet room in one of the participant's house. In the interest of security at each interview there was another lady present.
I asked each participant to sign a consent form (copy here). That helped to clarify the nature of the interview and that the relationship, between interviewer (me) and participant is clear and professional (Rogers et al 2011,p.224).
Before I started I told them the goals of the study, what will happen to the findings and where I will publish them, the privacy of their information meaning I would not publish their names in any public domain.
User Journey
"I chose that destination because it was
somewhere we could fly to from Bristol"

Participant 5
One participant started by looking at which destinations you could fly to from Bristol on the dates they wanted and then booked hotels separately.
"We wanted somewhere hot and not too expensive"

Participant 2
Two used a similar process of local airport plus dates first then deciding on a destination then searching on Trip Adviser for hotels. They placed a lot of weight on reviews. One started by using the Trip Adviser budget tool to help select their destination and hotel.
Four participants booked flights and hotel separately. Only one booked a package, they started with the destination – Cuba, then looked at the tour operators who flew there. They selected Virgin due to the price and reputation for quality.
B
Insights – What's important to this user group?
Key insights gained that could be translated into specific requirements
Holidays are precious, to ensure they had a great time, they all tried to reduce risk of booking a bad holiday and not getting value for money:

Two searched on Trip Adviser to see what others had said
One person booked with Virgin based on their reputation
One person went back to a location they had been before
One person looked at the pictures posted up of hotels

Because holidays are so important, they were prepared to put the time in to conduct their own research, very active, involved decision making process
They like to search on different devices
Dates, and airport and/or budget was the constraining factor or decided first then destinations was researched.
Requirements
Functional Requirements
Searchable Reviews of destinations, hotels, travel operators e.g. if JD Power has done any customer satisfaction surveys of travel operators, put the results clearly
"Clever searches" that answer consumers basic need questions including:

"Where can I fly from Bristol w/c 20th June"
"Where can I go for 2 weeks for £300"
Non–functional
Data Requirements
View multiple pictures and video's of hotels – so they can see with their own eyes the quality of hotel accommodation
Environmental Requirements
Site must display on different platforms e.g. Smartphones
Appendix
Participant short transcripts
N.B. – The following are not full transcript of the participants replies but simply the important points(Rogers et al 2011,p.227), in my opinion, lifted from the recordings of the interviews. The interview sound files in MP3 format are made available below each shortened transcript.
Trial participant questions and answers

| Time | What was said |
| --- | --- |
| | Why did do you need to go on holiday? |
| | to have a rest |
| | Why do you need a rest? |
| | Worked hard all year |
| | Why don't you rest at home? |
| | change of scenary, warmer weather |
| | Why do you like the warmer weather? |
| | Because it gives me energy, and I don't get cramp, gets rid of aches and pains, cold and flu |
| | Why don't you go away for longer? |
| | Money, too expensive and sometimes the flights aren't at convenient times |
Back to appendix top ⇑ Back to page top ⇑
Participant 1

| Time | What was said |
| --- | --- |
| 0.01 | Why did you choose your last holiday? |
| 0.13 | flights were a convenient time |
| 0.18 | reviews having some bad ones shows honesty |
| 0.34 | more useful (reviews) |
| 0.36 | trust it(reviews) |
| 0.44 | have written reviews |
| 1.25 | can decide whether a negative review is important |
| 1.40 | Why did you choose a particular website? |
| 1.43 | reviews |
| 1.45 | content |
| 1.49 | smart phone AP |
| 1.53 | save time if using a smart phone AP |
| 2.01 | spoke to friends about APs |
| 2.18 | smartphone AP actually influences decision |
| 2.22 | Why is it important for it(the travel website) to be on a smartphone? |
| 2.30 | saves time, more likely to choose that website |
Having trouble with the player? Try:- Participant 1 mp3 sound file
Back to appendix top ⇑ Back to page top ⇑
Participant 2

| Time | What was said |
| --- | --- |
| 0.20 | Why did you choose your last holiday? |
| 0.22 | not expensive |
| 0.30 | shopped around |
| 0.38 | booked flights and hotels separate |
| 0.40 | Why is price the most important thing to you? |
| 1.20 | best you can get for your money |
| 1.30 | drew up a shortlist |
| 1.33 | looked for the cheapest flight |
| 1.47 | looked at Trip Advisor and hotels.com |
| 1.56 | had a budget |
| 2.05 | Why are other people's reveiws important to you? |
| 2.17 | value for money |
| 2.30 | value for money |
| 2.56 | accurate reviews |
| 3.20 | Why did you choose to do everything separately with the flights and hotels rather than a package company? |
| 3.30 | more in control |
| 3.37 | choose exact flight times |
| 4.05 | independance is nice |
| 4.50 | value for money |
| 4.57 | price range |
| 5.33 | Is there a mistrust of travel companies? |
| 5.47 | don't always think you get the best holiday with them |
| 5.51 | has shoddy accommodation in the past |
| 5.57 | didn't do my research |
| 6.00 | that put me off doing it again. |
Having trouble with the player? Try:- Participant 2 mp3 sound file
Back to appendix top ⇑ Back to page top ⇑
Participant 3

| Time | What was said |
| --- | --- |
| 0.02 | Why did you choose your last holiday? |
| 0.09 | warm |
| 0.14 | bars, clubs, culture |
| 0.16 | not expensive |
| 0.02 | Why did you choose your particular holiday company? |
| 0.30 | not holiday company |
| 0.36 | chose Easyjet and booked hotel directly |
| 0.38 | package more expensive |
| 0.45 | Why choose to buy it all separately rather than using a package holiday company? |
| 0.54 | package more expensive |
| 1.09 | little point in paying the extra to a company |
| 1.18 | Why did you go back to the same place as you did before? |
| 1.41 | wasted a lot of time before |
| 1.48 | big group and the more you have in a group the more difficult it is to make decisions |
| 1.58 | cheap or as expensive as you like |
| 2.24 | Why did you choose the hotel that you did? |
| 2.26 | chose because of friends referral |
| 2.54 | brilliant price |
| 2.58 | right location |
| 3.12 | Why did you choose easyjet? |
| 3.14 | because of cost |
| 3.18 | cheaper than other airlines |
| 3.20 | Why is a local airline more important? |
| 3.50 | save money when travelling from Bristol |
Having trouble with the player? Try:- Participant 3 mp3 sound file
Back to appendix top ⇑ Back to page top ⇑
Participant 4

| Time | What was said |
| --- | --- |
| 0.02 | Why did you choose your last holiday? |
| 0.05 | Cuba, culturally different |
| 0.10 | Why is that interesting to you? |
| 0.15 | not experienced a place that is communist |
| 0.25 | Why did you book with that particular company? |
| 0.26 | good reputation |
| 0.42 | Why do you think they have a good reputation? |
| 0.50 | advertising very good and the prices are competitive |
| 0.56 | Why does the advertising attract you? |
| 1.04 | up to date |
| 1.07 | quality of service |
| 1.11 | Why do you think that? |
| 1.19 | Air stewards and stewardesses look after everybody |
| 1.30 | why is service more important to you over price? |
| 1.44 | important to go with an airline that will give me the service that I want |
Having trouble with the player? Try:- Participant 4 mp3 sound file
Back to appendix top ⇑ Back to page top ⇑
Participant 5

| Time | What was said |
| --- | --- |
| 0.02 | Why did you choose your last holiday? |
| 0.10 | Bristol flight |
| 0.15 | 4-5 days duration |
| 0.20 | did't want a long flight |
| 0.46 | Checked out what transport was like |
| 1.05 | Why did you choose the hotel that you did? |
| 1.20 | Spent a lot of time looking |
| 1.30 | Hotel near the station |
| 1.53 | Hotel looked nice in the pictures |
| 2.18 | Discarded hotels because of their decor |
| 2.24 | Hotel in a good location |
| 2.42 | Why did you use a particular set of tools to make your hotel choice? |
| 2.51 | Used hotels.com |
| 2.53 | used this site a lot and really liked it |
| 3.01 | nice interface to look at pictures |
| 3.14 | the pictures |
| 3.15 | see what the pictures look like |
| 3.24 | looked on map for location |
| 3.27 | looked on tripadvisor.com |
| 3.30 | to see what was said about them |
| 3.32 | 2nd step |
| 3.41 | top hotels don't always get representative reviews |
| 4.32 | hotels.com first, tripadvisor.com second |
| 4.45 | Why did you look online rather than go to a travel agent? |
| 5.03 | booked flight and hotels separately for flexibility |
| 5.24 | looked at pictures myself |
| 5.38 | travel agent will sell you what has the highest commission |
| 5.46 | form my own view |
| 6.10 | didn't think to look at travel agents, looked online first |
| 6.50 | Why did you choose the flights? |
| 7.00 | local airport, no travelling before flight |
| 7.35 | flight times important |
| 7.42 | Why did you look on the computer and not on your mobile phone? |
| 7.50 | pictures are really important |
| 8.10 | map interface works better |
Having trouble with the player? Try:- Participant 5 mp3 sound file